This is where you can see customers comments and feedback on my work
Ray Sapak, Folk fiddler. Commissioned Electro-acoustic Vio-5
10/12/2020
(New baby, christened "Amy")
They say that introducing a second woman into your life creates trouble. Well, there are exceptions and I think 'Amy' is one of those. We really liked hearing her for the first time. I have to say she is pure delight, even better than I dared hope, your skill is superlative and I feel very lucky to have crossed your path. What kind of woman she's going to grow into the mind can only guess. She has an delightful action, has a gorgeous, clear voice, able to go to sonorous depths other fiddles can't reach, holds nicely under the chin with the kun, a deep suntan that just glows under the nose and the best figure in town. Priceless.
Cameron Svedal, Traditional hardanger Fiddle
10/11/2020
Glyn Jones has done a fantastic job restoring my Hardanger Fiddle. He was very friendly and helpful and was a very pleasant person. He made my instrument sound wonderful after not being played in over 100 years and made sure that the work done to it was to the highest quality possible. If you are looking to get a new violin or get yours restored, Glyn Jones is the man to go to.
Cameron Svedal 2020
Mags Layton, Folk and Bluegrass fiddle, on a "Celt" 5-string Electro-acoustic.
10/05/2018
I met Glyn at the New Forest Folk festival in July 2017, and was drawn to his stall like magpie to a shiny thing. His violins were wonderful, and I was so impressed with his personal design of chinrest amplification, and the technical and scientific knowledge he put into making and adjusting his instruments. I tried out his 5-string, but convinced myself they would be too heavy or difficult to get used to after my 7/8ths sized 4-string. But I couldn't stop thinking about the advantages of the chinrest system, so 9 months later I'd persuaded myself to visit his workshop to try out his instruments to see if they were as good as I remembered
Once there, I tried out his full range, and found myself overwhelmingly charmed by the 5-string Celt. It was surprisingly comfortable to play and when he mentioned that most 4-string players adjust to a 5th string within 45 mins… well, there's nothing like a target!
Well, we bonded!, Glyn made a few adjustments for me, including fitting the chinrest system. It was a long two weeks waiting to collect the instrument, but the result exceeded my anticipation. The acoustic sound is warm, resonant and consistent across the strings. The instrument is incredibly comfortable to play. Using the amplification system, the band have all commented on how 'true' and warm the tone is.
I have used it for recording sessions and for live, amplified & acoustic gigs and it performed brilliantly. At the last folk session, two of us had 5-string violins. The Celt won hands down over a modified 14.5" viola – for sound quality, for richness, for volume, for size, for useability and for sheer beauty. I could not be happier with the instrument. It seems close to perfect already, but as I have only had it for two months, continued playing-in is, and will, only add to the sound quality & tone.
I can highly recommend these instruments and their maker, who is wonderfully pleasant, professional and knowledgeable to deal with.
Barry Guyer, orchestral cellist.
Longman & Brodrip 18th Cent Cello repairs
22/06/2017
"The Duchess' is an 18th Century English cello that has previously undergone multiple restorations. A fresh split opened after the instrument was knocked over on a hard rehearsal room floor, and a severe buzz ensued. Glyn has repaired the split, reglued the bass-bar, replaced to a professional standard at least 25 previous, inferior repairs, and has made good a number of other deficiencies, including some caused by the use of inappropriate glues.
He showed me the defects and discussed all stages of the restoration process and, on completion, has provided a detailed illustrated listing of his work.
This old cello now sounds magnificent with a clear full tone that is maintained on all four strings even in the highest positions. It is an absolute delight to play and I cannot thank Glyn enough for giving the old girl a vigorous new lease of life".
Barry Guyer, Salisbury, Wiltshire.
Sophia moody, Peripatetic teacher
Vio-5 - 5 string violin
14/06/2017
"I have had the privilege of using Glyn's varied services for many years, from repairing my old violin, bow rehairs, to mending pupil's instruments. I recently borrowed a Vio-5 to see if it made my job as a peripatetic teacher easier, as I teach Violin, Viola and Cello, sometimes all in one school. The Vio-5 is both a fantastic tool and instrument, as it enables me to demonstrate and play along with any of the instruments that I teach. I have been so impressed having 3 instruments in one, that I now own it!
It also helps that the tone of the instrument is strong and clear, my particular instrument has been strung with Lenzner Viola strings, and a Dominant violin E, helping produce a deep melodious sound. "
Sophia Moody GLCM(Hons). LLCM(TD). PGCE(Mus). MISM.
Member of the Salisbury Area Music Co Operative team.
Cathy Richards, Folk Fiddler
The first Electro-acoustic "Vio-4"
16/05/2017
July 2016, at the New Forest folk festival, I saw a stall with violins hanging in the entrance. I couldn't resist having a look, then trying them out – lovely sounding 5 string instruments with an unusual and unique shape. My husband commented on the tone... and I was in love!.
I really didn't want a 5 string violin, as I already had one at home, but having tried many old and new violins over the years I longed for an instrument with such a strong rounded voice.
This is when I first met Glyn, and we discussed my idea of a 4 string version of his violin. Glyn was prepared to try a 4 string model and we were off. Over the next 6 months I visited his workshop regularly and was closely involved in all stages of development from choosing the wood, to measurements of the neck to suit my hand, and watching real craftsmanship developing the resonance of the instrument.
I have had my new violin since Christmas 2016, and she is delightful. She looks and sounds beautiful and I feel I finally have the violin that suits my needs after years of buying numerous violins that never quite came up to the mark. I play regularly with a band and the ingenious pick-up that Glyn has invented gives the purest acoustic sound with no interference or bow noise. Even in the 6 months since she was finished, her tone has developed and I look forward to years of pleasure together!!
Christine Draycott, Baroque cellist
06/04/2017
"Glyn came highly recommended to me by a local fellow string player, and very rightly so! His expert knowledge and craft skills are paired with detailed explanation of how to achieve the desired outcome regarding sound quality, instrument set up and restoration.
What particularly shines through is Glyn's enthusiasm for building and setting up instruments, and his keenness to keep learning and developing new instruments and sound technology.
Glyn is very efficient and flexible regarding dates and it is always a pleasure to visit his workshop. I could not recommend him more highly.
Jess Regnart - "Jacob" re-juvinated!
13/02/2017
Early 20th cent, Stainer copy, after sensitive restoration and adjustment:
" Just wanetd to say thanks - I've been playing Jacob all afternoon and he is awesome (and very dark and very loud!!!). He's so well set up - not one scratch or wrong string caught all afternoon! Bliss - my husband even enjoyed listening to my efforts... I absolutely love him - thanks for bringing him back to life for me. You're a complete star".
Naomi Clayton, Folk musician
09/10/2015
Now playing the Vio-5, electro-acoustic violin
, "Just thought I'd let you know that I am really loving my instrument. It's perfect. I have just come back from a fiddle school weekend and it was much admired". "The tone was coming through more and more as I played it all day"
Dave Swarbrick
10/05/2015
"I get to see a number of instruments on my travels, it's one of the delights of my job, and seeing and playing Glyn's beautiful 5 string (Vio-5) was a pleasure. I particularly liked his fittings which give a contemporary look to the traditions of his art.
Make no mistake, there has been a lot of midnight oil burnt in the conception of these masterpieces, sonorous and powerful, great to play and great to look at, and at an affordable price too."
Dave Swarbrick
,
Glebe hall solo concert, Winterbourne Earls, May 2015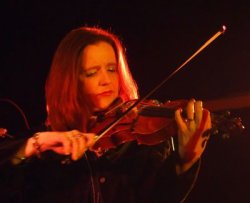 Joy Gravestock, musician and music therapist
01/05/2015
"I was really excited to meet Glyn and enjoy lots of experimentation with his violins and violin-variants at a festival last summer.
The great thing was Glyn's no-pressure response to me and his sheer delight in letting me experiment and play with unfamiliar instruments for….well, a long time!
I loved all of the violins and was surprised by the quality of sound across all strings. Often on a 5 string instrument there is a loss of quality on either the top or bottom strain but on his, this was not the case.
The quality of the sound is great and I was able to play very softly and not lose quality, this is hugely advantageous when you are playing through a sound system, yet still have a good quality of sound under the ear.
I would also consider using one of these Vio-5 instruments in my other role as a music therapist, as the work I do it is helpful to have an instrument with a greater range of sounds. It was a great pleasure to meet a maker like Glyn and to have such an enjoyable time playing his instruments. Highly recommended!"
photo courtesy of Phil Richards (philwirks@gmail.com)
The Soundpost Ltd.
24/11/2014
For over 3 years to date, Glyn has applied his skill and professionalism in all aspects of work he has undertaken for The Soundpost Ltd., our Company's reputation demands high quality work but also has often to meet tight delivery deadlines.
Glyn's scope has ranged from simple set-ups of new, student instruments to assembly and adjustment of master quality ones, complex repairs such as neck angle adjustments, structural and finish defects, through to complete restorations of our customers more valuable instruments.
We consider his support to our national customer network an important asset to our business, with a degree of flexibility that is hard to find these days.
Justin Wagstaff, Commercial director
Catherine C. Demetriadi, The Wiltshire Quartet
18/11/2014
From bow rehairing to advising on and installing a new style of chin rest, to reshaping a fingerboard to recommending and installing geared pegs, Glyn has worked magic on my violins and thus my playing. He is a trusted guide and a lot of fun to visit, too. His workmanship is impressive and the price is right!
New Viola, 16 1/4" "Tuscan-Medici"
13/11/2014
"The instrument has responded beautifully, with the deep richness of tone which I originally fell in love with, and it seems to have lost none of that quality after playing in.
"I have tried other Violas (used ones) in many music shops, and none comes anywhere near the rich tone of your instrument."
"My opinion is that this viola is a beautifully crafted instrument, with a fine voice, and produces the most satisfying, rich and mellow tone. I believe it to have been excellent value for money, and I get great pleasure from playing it"
Dr. J.McH. Weymouth, Dorset
Richard "Titch" Roberts, of Sonic violins
28/05/2014
"I've been delighted to be involved in the development of the Vio 5.
I have long wanted to add a high end Five String Violin to my range but been aware of the difficulty in developing such an instrument".
"Working with Glyn on the plate tuning and playability of the Vio 5 has been both educational and productive. The Vio 5 is the best sounding Five String Violin I have played in over 10 years in the business, and this is being endorsed by some of my most respected customers."
Sonic Violins